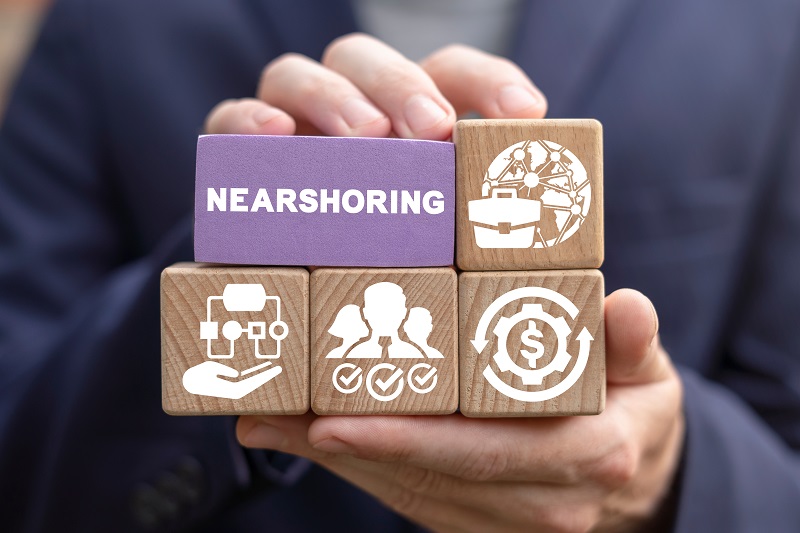 GR Software Engineering GmbH offers nearshore services in the field of software development. The company was founded in 2012 and now, 10 years on, employs over 60 staffers. Our recipe for success is still the long-term, personal and sustainable relationships with our customers, for whom we establish exclusive teams of software developers. We strive to reconcile three criteria: high availability, cost-effectiveness, and high quality. We can certainly prove this by now with numerous references. Nevertheless, getting a new customer is always a bit of a job. I think this is true for all industries, because you always have to win trust.
Especially with our business model—the development of software with nearshore programmers reservations have often been expressed, such as "remote working does not work for us", "video conferences are not the right medium", "how are agile processes supposed to work across several locations", etc.
Once an interested party had made up their mind in advance, it was difficult to convince them otherwise, even if we had offered them the ramp-up phase involving as little risk as possible. In many cases, I think, it is also a mere visceral antipathy to changes that keeps people committed to the nearshore development model.
When the Covid pandemic broke out, it was not at all clear how the labor situation would develop. Fortunately, everything has developed positively in our business, especially since the need for skilled workers seems to have increased even more worldwide, under pressure of advancing digitization.
In March 2020, I was invited to give a talk at a roundtable discussion held by the Harbor Club in Hamburg and discuss the possibilities of software development assisted by nearshore resources. About 25 CIOs from renowned companies attended the event. All of them said that they had been promoting the use of video conferencing systems in their companies for more than two years in order to increase work efficiency. Again and again they met with rejection and suddenly everything had to become available within a few days.
Today, having seen that it all works quite well, the world has obviously reached a point of no return with this regard. When I contemplated sharing these findings with you, I came across an essay on the Internet by Franz Kühnmayer—a trend analyst and futurologist.
He writes on the subject of "Working after Corona" as follows:
Corona is turning the working world upside down. Attendance is no longer compulsory, an empathetic management culture becomes a real competitive advantage, and a crisis-proof work culture is essential for survival. We cannot know what the future will look like after Corona, but that's precisely what gives us leeway. Much more exciting, therefore, is the question: Isn't something completely new emerging right now?

Compulsory attendance is absent — forever

What had been talked about for years suddenly became relevant through the Corona exit restrictions: the end of compulsory attendance. Corona proved to be a test bed for New Work, and showed how steep the companies' learning curve can be. Online meetings and webinars were tried out in a hurry, and very quickly it became clear: the decisive factor for success is less the technology than the change in social forms of behavior.

The fact that spatial isolation did not turn into social isolation and that teams could continue to work together depended on the corporate culture and managers' attitude. The extent to which senior staff were familiar with remote management was important, as well as their so-called "nominal qualities": trust, result orientation, tolerance. It became very clear that leadership is indeed a service for the people who work for a company and who need support, especially in challenging times. The word 'service' does not only mean to perform, but also to serve. And this part was now particularly in demand among managers.

For the time after Corona, the realization will prevail that many things in the area of new working models should be tried and proved again and again. But the spontaneous transformation not only fired our ability to work from the kitchen table at home, it also made us very aware of what we miss about the office, and what we don't miss. The worry that mobile working would make the office lose its value has always been completely unfounded. An extreme home office in the Corona context did nothing to change this. On the contrary, only since then has there been a real sensitivity for what modern offices can and must achieve and what we need to be productive—individually, for ourselves, and in collaboration with others.

So following the Corona home office marathon, offices will not be closed en masse or space-reduced. Rather, new working models have taken on a life of their own and have come to normal. This also revealed the need to catch up in terms of competence and culture and made some to-dos in terms of human resources and organizational development. It is about technologies that were actually already taken for granted, but were still considered exotic in many companies, that have now been introduced, and will be further optimized, and won't disappear.

Crisis as a character test and relationship builder

During the Corona crisis, one saw rows and rows of board members thanking their employees in a touching way on social media because they recognized how bravely and flexibly the company was kept going despite all adversities; entrepreneurs who did everything not to lay anyone off, but rather to hold out with short-time work and other models; competing high-tech giants such as Amazon, Microsoft and Google, who worked on a better understanding of the epidemic with their combined Big Data competence. But one also saw global corporations like Adidas or H&M, which wanted to stop rent payments in a flash despite profits in the millions, as well as Edeka, as a food retailer, actually a crisis winner.

During the crisis, it became very clear whether what is presented as corporate values in fine-sounding image advertisements and on employer branding websites is actually true. Even the last critic realized that the culture is not a bunch of flowers to be dealt with when nothing else comes to mind. In the middle of the Corona crisis, in the pouring rain, it became clear that working on leadership culture is not a fair-weather program.

After Corona, this lesson will become even more important, because the real digital world of work will continue to challenge us in the future and remind us of what the crisis has clearly shown us: The time of lone warriors and self-made men is over. A company is only doing well if the larger group is also doing well—partners, customers, employees, competitors.

Incidentally, something similar is also particularly evident at the individual level, because times of crisis bring us face to face with our very own character traits. When the going gets tough, humanity, cooperation and trust come to the fore. After Corona, we will therefore not only remember how we overcame the crisis, but also—with whom. And that also means: with whom we want to shape our future.

Courage is a renewable energy source

The Corona crisis made it clear that even seemingly invulnerable companies should never lull themselves into the false sense of security that they are immune to disruption. Companies that want to emerge stronger from this crisis therefore need the willingness and confidence to actively shape the future. Challenging times are always fertile ground for fresh ideas. In this sense, the crisis was also the beginning of an almost prototypical time of new beginnings. It may sound paradoxical, but it is fundamentally sensible to think and act courageously right now.
So if there is anything at all to be gained from this terrible pandemic, it is perhaps a fact that prejudices against modern working methods have dissolved and how steep the learning curve of companies can be.
We would like to take this opportunity to thank our long-standing business partners and new customers acquired during the pandemic, as well as our employees, for their constructive and solution-oriented approach to this situation at all times.
Jürgen Schell
CEO
GR Software Engineering GmbH